KeHE Cares® Outreach
KeHE Cares® gives our employee-owners opportunities to volunteer in the US and abroad. We serve in local soup kitchens, create healthy meal kits for the hungry, build latrines in developing countries, repair homes after natural disasters, collect relief supplies and much more.
---
Here's How It Works:
KeHE contributes a portion of our profits to KeHE Cares Outreach Committee®, made up of employees from across the company and they fully vet a number of service organizations where KeHE employees are directly involved in an ongoing basis in giving of their own resources and time.
KeHE Cares® wants to come alongside those efforts and help grow the impact.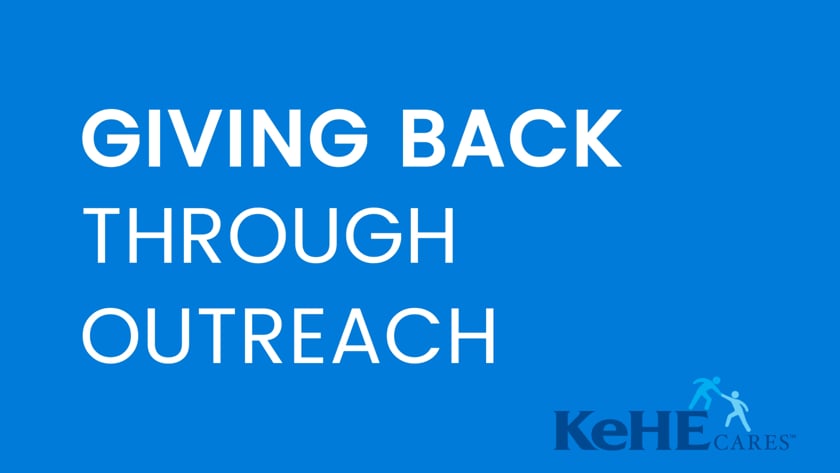 How to get involved
Every employee at KeHE Distributors contributes to the KeHE Cares program simply by doing their job to the best of their ability. In doing your job well you are contributing to the success of KeHE and our ability to fund the KeHE Cares Foundation.

You are contributing to feeding thousands of people around the country and around the world. With food scarcity becoming an ever-increasing issue because of the global COVID-19 pandemic, this is critical.
You are also a part of rescuing girls, boys, and young women from the U.S. and Nepal from the horror of sex trafficking and exploitation.
You are providing opportunity for adults with disabilities to lead productive lives with a purpose.
You are helping battered women who need shelter and a new set of life skills to escape from abusive relationships.
You are contributing to programs that are lifting young men and women out of poverty through mentorship programs, and in helping them to find a new narrative for their lives.
You are providing medical care and education in remote areas of Honduras, Burundi, South Africa, and Cambodia.
You are providing a safe home and hope for a future for street boys in Kigali Rwanda.
And much, much more.

If you are ready to take it to the next level, we would encourage you to look for serving opportunities in your community and share your stories of impact with us.  You can also participate in KeHE sponsored events as we come alongside our Cares partners.
We would also like you to consider making a donation to the KeHE Cares Foundation so we can impact more lives.  You can pick the cause that is most important to you or donate to our general fund which will allocate resources where the greatest need is at the time.
Stories
Learn what we do, where we go and how we serve.
Partners We Serve
KeHE works with hundreds of serving partners every year. Our partners are chosen through a very intentional selection process, where:
Smaller, entrepreneurial organizations are favored

Pre-existing relationships with our employees are prioritized

Focused on the relief of human suffering by offering a dignified "hand-up" approach
The following are a small representation of our partner organizations:
KeHE Cares® and our employees support Mission Lazarus in assisting people in need in Honduras and Haiti.  Projects have included building schools and providing latrines for individual families.
New Vision Community Church has been delivering both spiritual and physical bread to the hungry for over a decade by serving members of their community in Laredo, TX.
Restoring Hope Nepal is a partnership between faithful overseers in Nepal and a Montana-based organization that works in rescuing trafficked women and girls from brothels, in both Nepal and India.
The Male Mogul Initiative has a mission to positively transform the way men of color live and lead in their communities through leadership and entrepreneurial development. We have a vision to inspire a generation to realize their potential and make the impossible, possible in their lives. We will do this through character development, academic development, workforce enhancement and community empowerment.
KeHE and our employees have invested in the launch of 4 Child Development Centers
which serve over 1,000 children in southern Honduras.